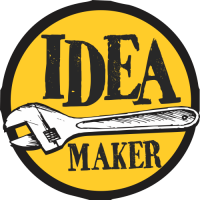 The Idea Maker for Innovators and Entrepreneurs
You're already innovative. But you want to take it up a notch. Whatever field you might be in, and whether you're a small business owner, entrepreneur, corporate innovator, or just wanting to develop that passion project that turns your crank – this practical world-embedded approach to educating yourself is the approach you need.
Super charge your ideas.
What does it cost and what do I get?
TUITION: Pay what you can over $299
5 self-paced mini courses
16 experiential lessons, containing video tutorials, whiteboard animated videos, rich content, and expert guidance every step of the way:
Unlimited lifetime access
Mobile friendly
Your very own Idea Page to capture, share, and improve upon your idea
A suite of deeply practical tools and canvases:
Tools and approaches for developing big value versions of your ideas
Tools and approaches for assessing and validating your own and other people's ideas
Unlimited lifetime access to printable PDF and Google Drive versions
OUR NORMAL PRICE: $ 999
Here you will get everything in the "pay what you can" offering plus the following:
+ 1 additional Idea Page to capture, share, and improve upon your ideas
+ Use of our collaborative virtual Venture Design Space (for 6 months, extendable if you wish)
+ 1 Idea Design Kit mailed to your door
What will I get out of this learning experience?
Expect immersive and engaging online course experiences that guide you at your own pace and in your own contexts, to make sure you're challenged and supported as you master every skill and take each next step.  Learn all about it here »
Here are our commitments to you »
Can I preview the course content and the Idea Design Kit?
You bet. We've opened some of it up so you can get an idea before you dive in. Take a sneak peek right here »
Can I get an Idea Design Kit if I don't pay full price?
Absolutely, here are the links to the:
Where can I learn more about the Idea Pages?
We'd love you to – we're very proud of this innovation in teaching and learning and how it helps you take your ideas into the world. Learn all about them here »
And the Idea Design Kit?
We love this kit »  With the Idea Napkin, Idea Model, Idea Slide Rules and Idea Critique Pad in hand, you can quickly design and assess any idea. The same tools are available to you in PDF and Google Docs format in any event, but, because of its tangible nature, this printed kit is nice to hold and work with.
Can you tell me about the virtual Venture Design Studio?
Better yet, you can watch a video demo here »
While we often go unplugged with our kit, some Post-It Notes, and the PDF versions of the tools, we also find real value in moving into this kind of collaboration mode. It uses a really (really) simple drag and drop interface and we've made all of our tools available to you at the click of a button. You can work alone or in a small team until you're ready, and then share with others for their feedback.
That said, the course doesn't depend on using this space if you're not interested. You can always grab your kit, print your own PDFs, and go!
What tools will I get to use?
We have a whole suite of ideation tools and the course is designed to help you master them. Some are found in our toolkit »
What if I'm a student or teacher?
We've got you covered. Please check out our Idea Maker Course for Educators »
I have a question you haven't answered here …
1. Really big value versions of your ideas
Learning to come up with ideas isn't something people are very good at by nature. In fact, most of us don't realize how challenging it is to do, how few of the prerequisite competencies we've carried through our previous educational and work life experiences, or, when it comes to it, just how bad most of our ideas really are.
That's where The Idea Maker Course comes in. It's a detailed reference and self-paced learning experience designed to help future innovators, entrepreneurs, and corporate innovators get better at learning – whether they're in business, technology, or the social sector. It will help you come up with ideas and significantly improve the concepts you're working on. And for those who have the interest, it will deliberately connect the dots and bridge to other processes such as design thinking, the business model canvas, and lean startup.
Whether you choose to adopt and follow the Idea Maker Course wholesale or jump in and out as you see fit to support your process, you'll be learning to drive innovation for yourself while building the foundational competencies needed to design the most highly impactful and imminently feasible versions of your ideas.
We commit to providing an experience through which you can develop the ability to come up with, design, test, assess, and share your own highly impactful and imminently feasible ideas, anytime, anywhere, for any context you may face in your life and career.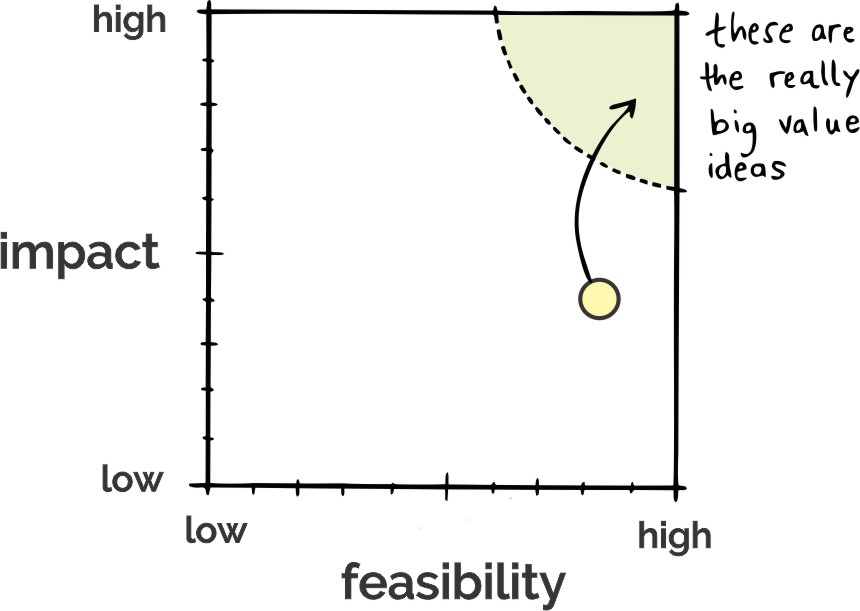 2. Practical innovation efficiency
We'll help you build the skills to come up with that big idea, chase that passion, make that leap, challenge that mindset, position yourself for that promotion, land that job, start that startup, improve adoption of that product, build that business unit, or lead that innovative team.
You can go unplugged with our tangible, printable canvases, worksheets, templates, and slide rules that you can doodle on and innovate with – either by yourself, with a colleague over coffee or beer, or with your team in front of the next whiteboard, field crew, or customer you find yourself facing. Or you can use our Google Drive based templates or keep things simple while also fostering communication and collaboration in the virtual Venture Design Space.
Either way, you will be able to tap into our theory-informed but deeply practical and deliberately adoptable approaches to ideation, innovation, and entrepreneurial action.
We commit to providing the tools and approaches, and guidance to help you ensure you don't waste energy and resources on ideas that aren't worth it.
We aim to make sure you're not just 'implementing your ideas right' but also 'implementing the right ideas'.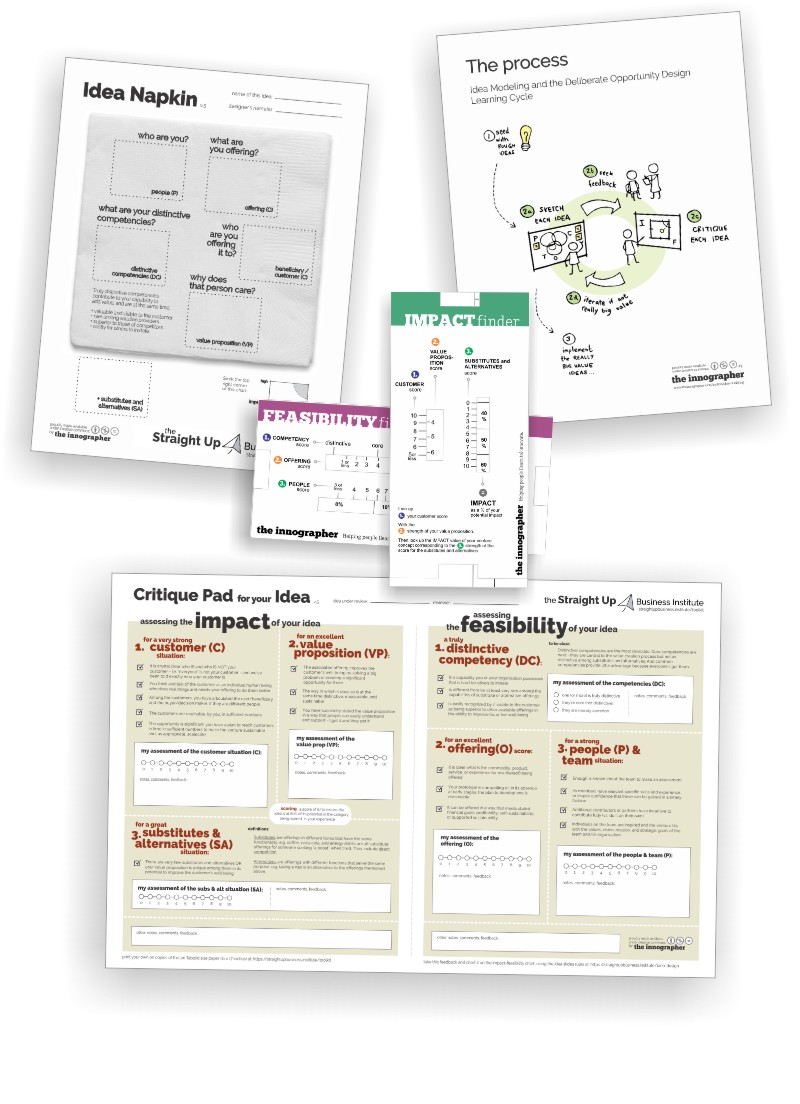 We commit to helping you seek mastery of our Deliberate Opportunity Design process, an iterative, design-based, learning-focused, and human-centered approach to innovating that helps you build your own innovation literacy and the foundational competencies you need to integrate and lead with the best of the best approaches to innovation and entrepreneurship available today.
Use the course to grow your own competencies, challenge your mindset, and build your own innovation literacy in order to go from student to Idea Maker Ninja and lead your own deliberate opportunity design processes in the world around you.
We commit to training you on our award-winning tools and methodologies that guide and support you in knowing WHEN, WHERE, WHY, and WHAT to do as an innovator, and in making sure you know HOW to do it all. All while being careful not to dictate a process for your context or the ways of thinking and practice that already work for you and your team.
4. Preparing you for big leaps forward
As you go through the course, we commit to helping you explicitly connect the dots to other leading approaches used by other creative people, top innovators, startups, and innovation strategy consultants – e.g. design thinking; business design, business modeling; lean startup's build-test-learn process; jobs to be done. With the goal of helping you bridge the gaps and progress more quickly during and beyond the course.