The Idea Maker Course for Educators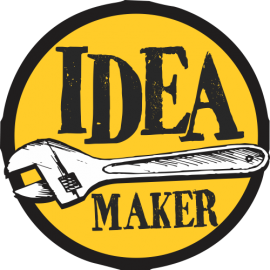 Motivate. Inspire. Enable.
Better student ideas.
Insightful teaching approaches.
Colleagues who get it.
Our Idea Maker for Educators initiative is completely free for educators and always will be. We just ask that you register for it.
Doing so also gives you full access to our Educators Hub »
1. Better student ideas through our ideation learning process
Learning to come up with ideas isn't something people are very good at by nature. In fact, most of us don't realize how challenging it is to do, how few of the prerequisite competencies we've carried through our previous educational and work life experiences, or, when it comes to it, just how bad most of our ideas really are. And teaching ideation is a whole other ball of wax …
That's where The Idea Maker Course comes in. It's a detailed reference and self-paced learning experience designed to help future entrepreneurs and corporate innovators get better at learning – whether they're in business, technology, or the social sector. It will help them significantly improve the concepts they're working on. And it will help them connect the dots and bridge to later processes such as design thinking, the business model canvas, lean startup, and the business plan.
Whether you choose to adopt the Idea Maker Course wholesale or assign parts of it as you would a 'textbook' in step with your syllabus, you'll be helping them learn to drive innovation for themselves while building the foundational competencies needed to design the most highly impactful and imminently feasible versions of their ideas. Learn more about the learning process »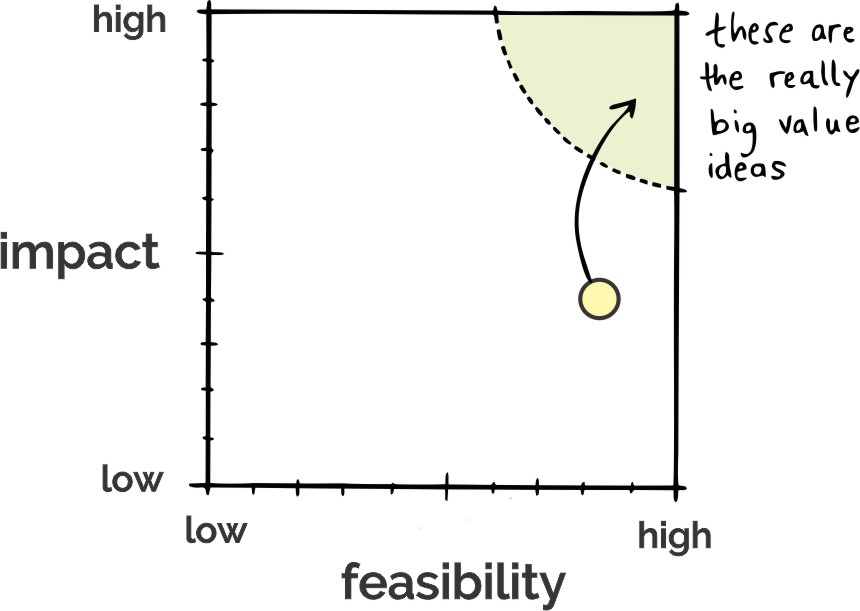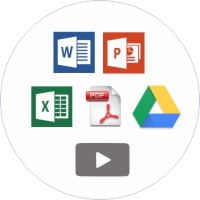 2. 'Prep Mode' so you're ready to teach
There are a lot of tips and techniques out there for teaching. You can download the canvases, buy the worksheets, get the slides, read the articles, and order the books into your bookstore.
But we know from our own experience that the rubber really hits the road the day you sit down – one morning at the start of a semester or the night before class – to figure out HOW you're going to make it happen. EXACTLY. HOW. In your classroom. In ways that support your students' learning. And without having to redesign everything you already do.
Our 'Prep Mode' is designed to help you make it happen for people using our ideation tools and our Idea Maker Course. How do I structure a class? Which tools could I use in which classes? How do I use each tool? Do you have any ice breaker activities that are relevant to the content? How do I get students into teams? How do I use the Idea Maker course to flip my classroom, get the students working between classes, and make super efficient use of class time to advance their work? How do I structure sessions with guest judges? How do I best assess the students' ideas? Can they really assess themselves?
Starting in August 2017 we'll be offering 'Prep Mode' through a series of webinars focused on these and other topics. And as we see what sticks, we'll be putting the same content into a series of self-guided courses just for teachers.
3. Practical classroom-ready tools and our virtual Venture Design Space
Student registrants won't get their own Idea Design Kits unless you order them into your bookstore or center. But all of the same content and more will be available to them for free through our Creative Commons toolkit, either as PDFs that you can print for them, or as Google Drive templates that you can assign, with which they can collaborate, and through which you can provide feedback. And teachers using the Idea Maker Course are also welcome to have their classes use our virtual Venture Design Space.
So you and your students can go unplugged and get it all done with nothing more than whiteboard pens, printed canvases, and Post-It Notes. Or you can bring it up a notch to collaborate using the best of what Google has to offer.
Or you can keep things simple while also fostering communication and collaboration in the virtual Venture Design Space. We offer all the same tools as templates there, so your students will be able collaborate at the click of a button and you will be able to track progress and provide feedback at any time.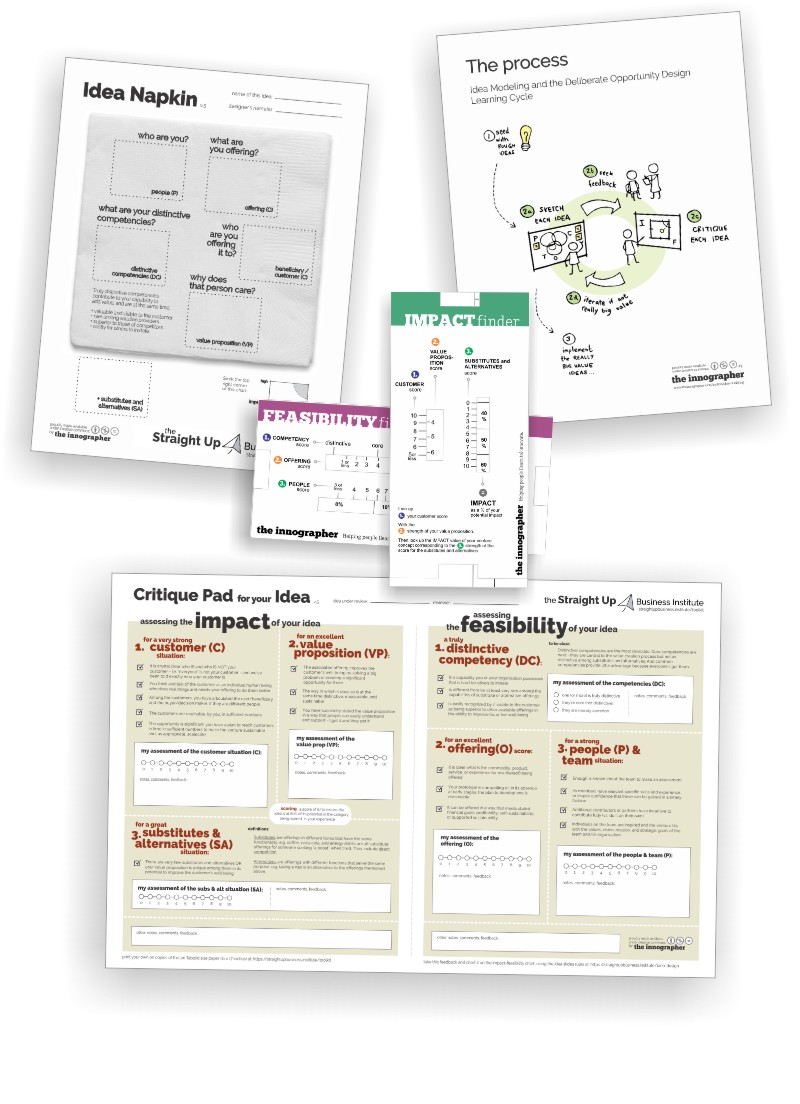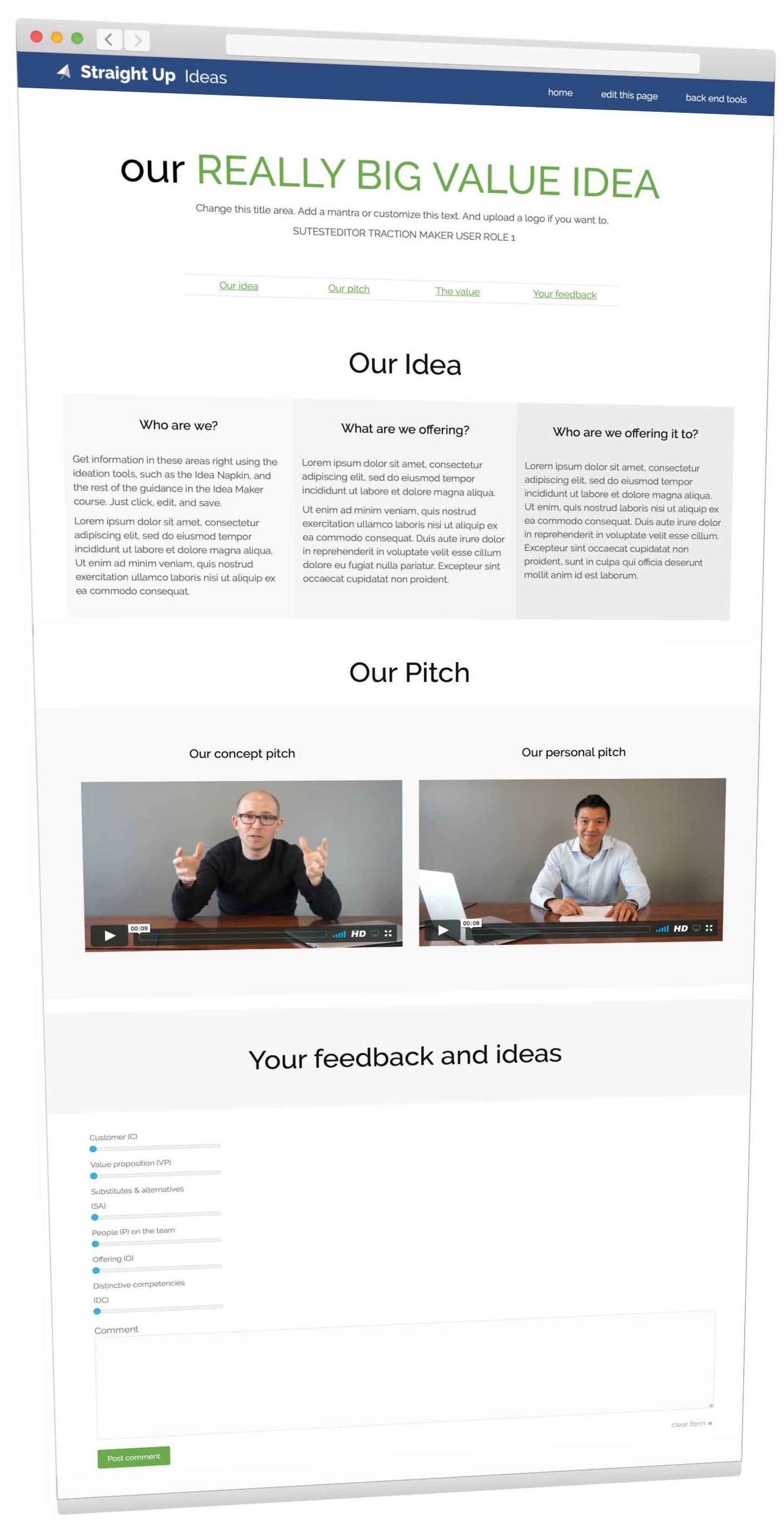 A lot of the learning and idea design work in the Idea Maker Course comes together on the Idea Pages – which are like a Facebook or LinkedIn profile but for your students' ideas.
These are optional but every participant gets access to their very own Idea Pages and you can use them as an actionable and practical way to help them get their ideas out into the world – both as an integrated part of the course material to help them with developing the concept, and for feedback and validation. Unlike a business plan, a business model, or even an idea model, an Idea Page is a dynamic web-based identity that captures both the work they are doing and the feedback they are getting.
The same tools and processes will help your students build a valuable pre-network, and after they "break and better" their ideas, you'll find they can also help them open the doors through which they'll take their next steps.
5. Changing how the teaching and learning takes place
Learning about innovation and entrepreneurship is very different from learning for innovation and entrepreneurship. You know this, as does anyone who's tried the latter. And we all know it's a challenge to provide the kinds of learning experiences that are authentic to what an entrepreneur goes through, in a way that's safe for the students and teacher within the educational system to which they are accountable.
Whether you like to think of it as 'flipping the classroom' or just age-old traditional good entrepreneurial teaching practice, our aim is to help you make super efficient use of the limited time you have with your students. We want you to spend your time together on the right things, so they can spend their time on the best things, in turn so they can do the right learning.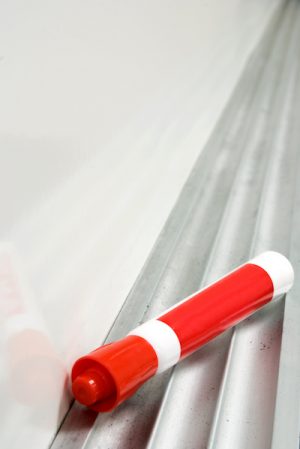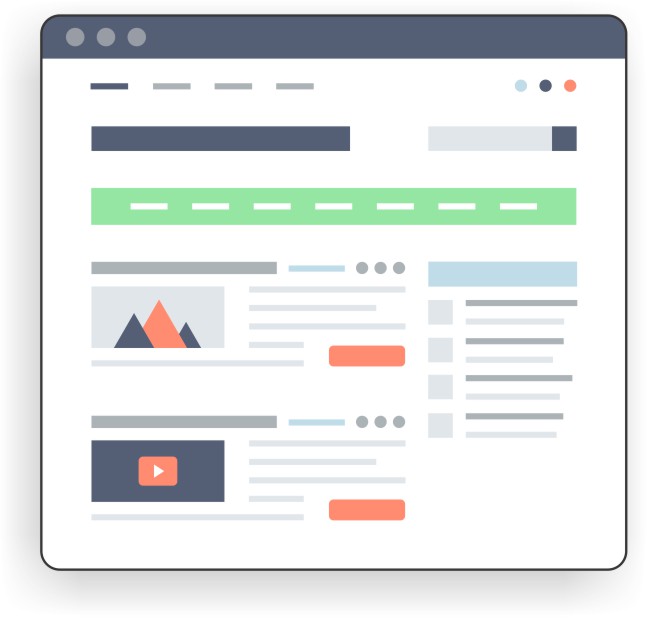 6. A community of like-minded leaders
Teachers who adopt The Idea Maker Course as part of their teaching will be able to join a private group so they can reach out to us and get our feedback and support, and so they can reach out to each other like-minded educators for feedback. This is implemented in a private Facebook to which your students won't have access.
A personal invitation to join our community
Dr. Alex Bruton, Co-founder
You're an educator and think of yourself as a coach. You work really hard every day to bring into your program the best approaches available anywhere, and you want to do more to give your learners a boost when it comes to coming up with and implementing really big value ideas – both while they're enrolled with you and so they become truly stand-out representatives of the talent you're known for putting out into the world.
Super charge your work to foster success in others. We're currently accepting requests for invitations:
To request an invitation you need to be signed in »
Frequently Asked Questions (FAQs)
What does this course cost?
The Idea Maker Course normally costs $999 per person.
And we don't offer the educational services listed above (such as 'Prep Mode') to anyone who isn't a registered educator.
What does it cost for a registered educator?
The value of these services is $400 but there is no cost for a registered educator. We commit to keeping it free to you forever.
What will it cost my students?
In line with our goals related to making tools for innovation and entrepreneurship education as widely accessible as possible, our goal has been to make everything in the The Idea Maker Course available to students at or below the cost of a regular textbook.
The value of the services being offered to students is $99. And at the moment we are offering it for any price above $1 per student under a 'pay what you can' model through our 1000 Innovation Ninjas initiative.
And even after this campaign ends, we commit to always using some form of such a model for students in the future. So don't think investing your time now will hit your future students. It won't.
We're proud of this given the kind of value your students will be getting and the ways in which you'll be able to enable their learning.
For how long will my students have access to the course?
For 5 months from the day they sign up.
Do they get access to everything?
Yes, exactly the same things as anyone taking The Idea Maker Course with the exception of the Idea Design Kits – which we just can't afford to send them at the low student price. Instead though, we make the same tools available to you and to them as PDFs, in Google Drive, and in the virtual Venture Design Space*. And they're always welcome to buy a kit or a set of Slide Rules if they want one, and you're welcome to order kits into your campus bookstore or center.
* At present your students' use of the virtual Venture Design Space requires you to register in advance as an educator.
For how long will I have access to the course and educator content?
Your access doesn't go away.
Can I just adopt some of the course in my class?
Yes. Some pieces of the course build on those before them. But once they're signed up, assigning your students only part of the content is as simple as dropping a link into your syllabus or Blackboard or Design2Learn site. We'll take it from there and you can expect them to come back having completed the work and being ready to move it forward with their classmates or with you.
Do I have to prove that I'm a teacher? And do my students have to prove that they're in my class?
Here's how it works:
You request an invitation » which registers you as a Straight Up for Educators and requires you to demonstrate that you work as a teacher
We grant you a trial period – completely free – during which you can explore the content and decide whether you want to proceed
You tell us you want to go ahead, and we set things up for you
We give you an invitation code to give your students (so they can register themselves and so we can set things up for them too)
You launch things in your class when you're ready
You use us and the community as resources
You receive updates as we release new tools and approaches
What if I'm a student but I don't have a teacher who's registered?
This seems geared toward higher ed. What if I teach junior high or high school?
I have a question you haven't answered here …