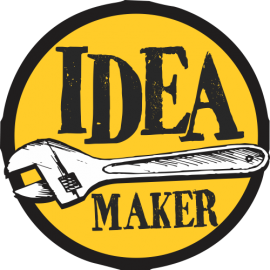 Bigger Better Ideas.
Deeply practical tools to hit the ground running. Beautifully crafted online learning experiences to support your journey. Five days of rich self-guided content to get your idea out into the world. Your very own Idea Pages to help you open doors. The Idea Maker course is the perfect way to upgrade your ideas and have a real impact.
What's the Idea Maker course all about?
The most highly impactful and imminently feasible versions of your ideas.
Receive your very own Idea Design Kit in the mail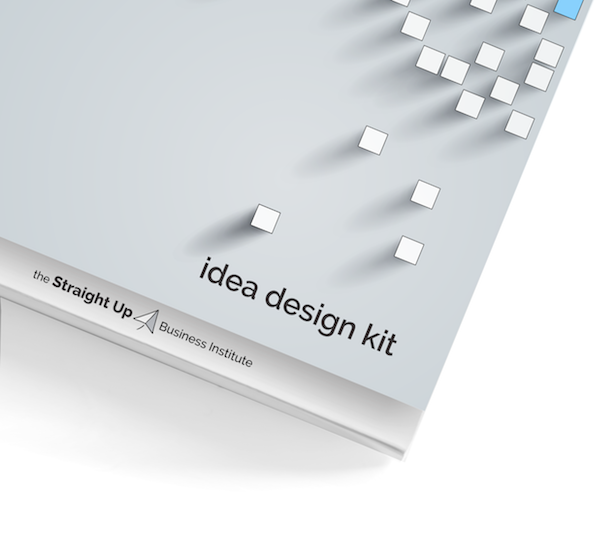 Designed to help you
get to work right away.
Also available in PDF &
Google Drive formats.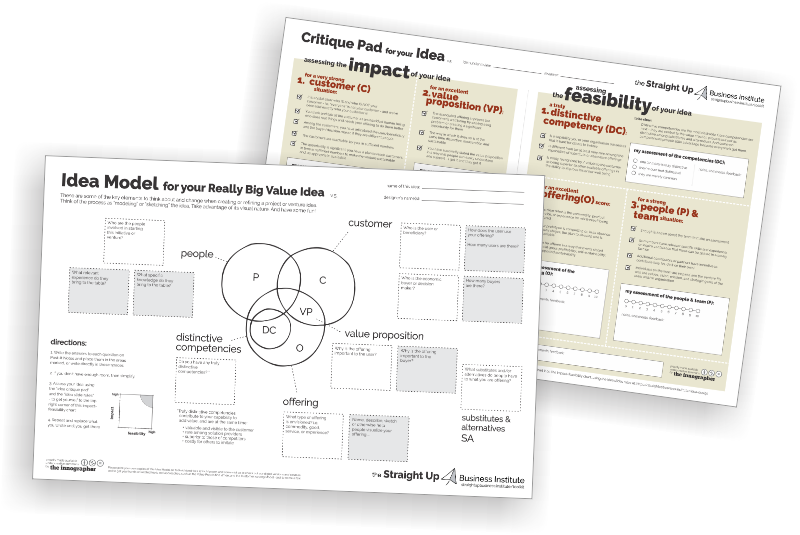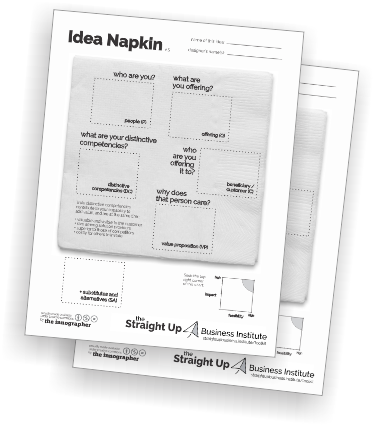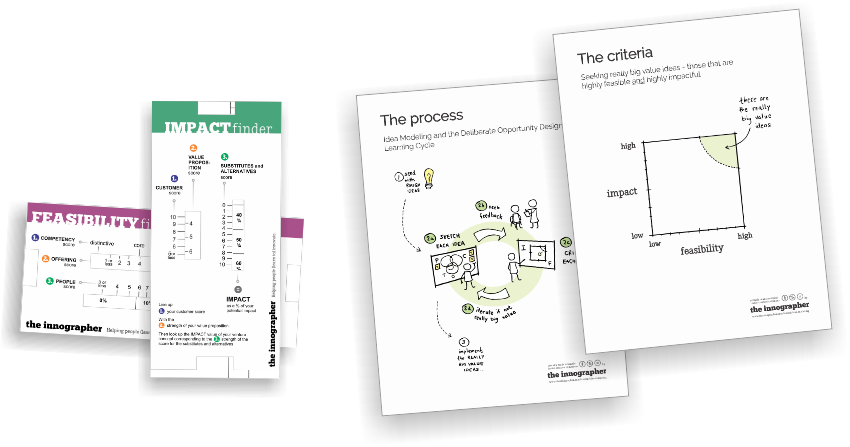 Collaborate and get feedback using our virtual venture design space
Get your very own Idea Pages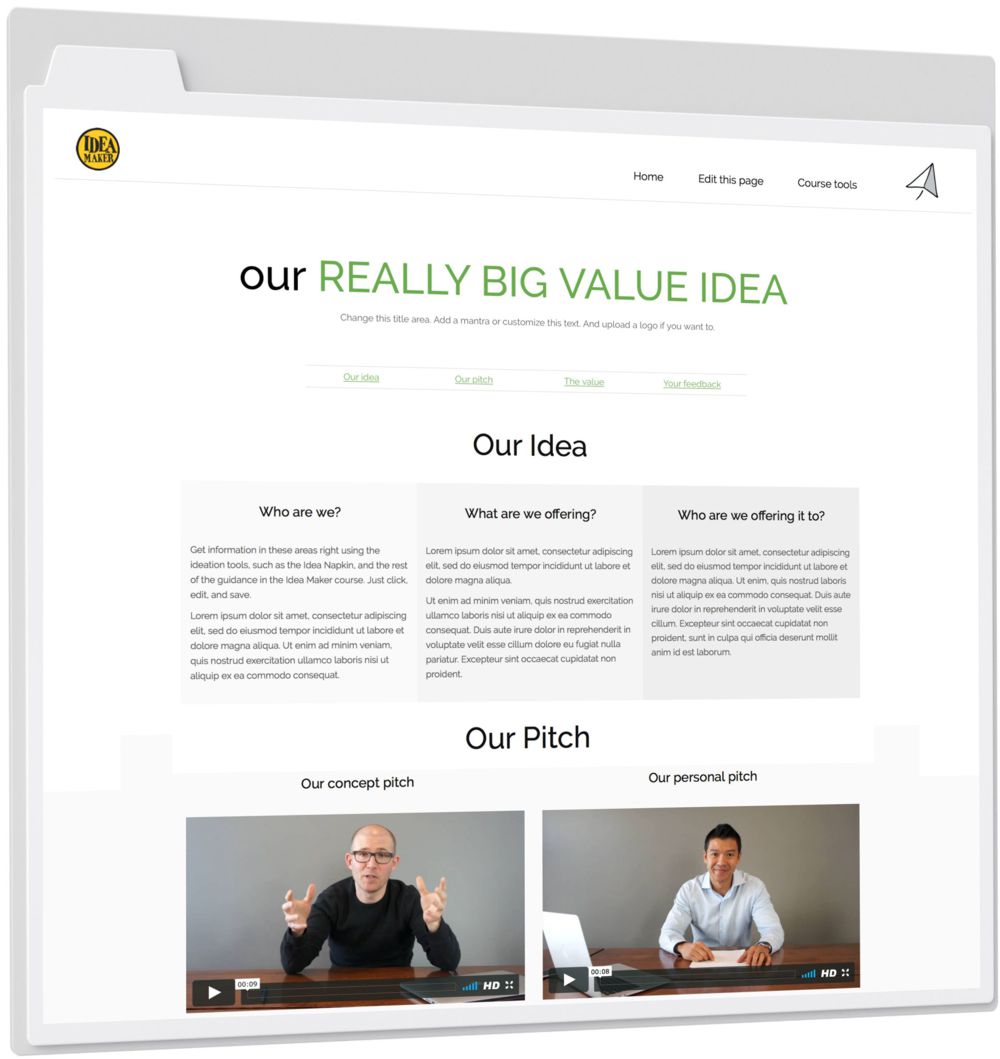 Ideas like you've never seen (or shared!) them before
A lot of your design work comes together on your Idea Pages – which are like a Facebook or LinkedIn profile but for your idea.
You'll use the Idea Page as part of the course to improve your ideas and to give each of them an identity that can be shared with others publicly and privately, or password protected for your team and close colleagues – depending on your needs.
And you'll be able to use the on-page scoring and critique-building tools to gather feedback and assess your own idea as you go: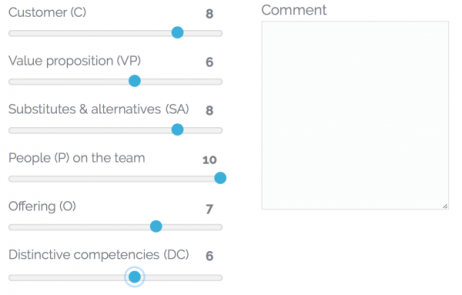 Design change with our fundamental processes and competencies in hand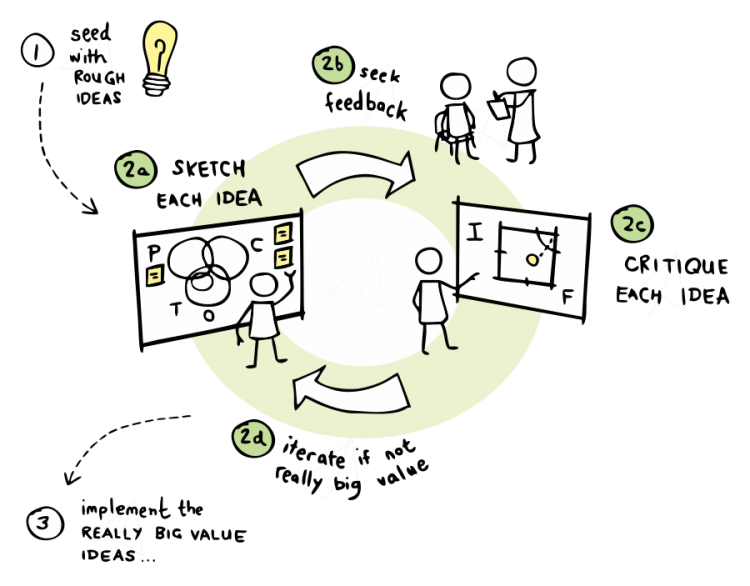 Solving the "Many Tools Dilemma"
The traditional business plan, the idea model, the business model, the lean and business model canvases, lean startup, the minimum viable product, and design thinking are among the great many approaches available to and sometimes hotly debated by experts today – to name just a few examples.
Learn more about Deliberate Opportunity Design » – an approach to innovation design we use as a foundation in this course that makes more accessible and connects the dots between the best of today's approaches.
I used to think that the whole concept of 'innovation' or thinking creatively was for the artists, engineers and of course, the designers out there … winning ideas seemed to 'just happen' to everyone else. Likewise, it seemed I was often trying to take my ideas straight from 'napkin to business plan'; I felt frustrated with the process and was rarely happy with the results.
With these approaches, I learned to stop seeing my ideas as fixed entities out of my control, but instead as ripe 'opportunities' with the potential to grow into those fantastic, winning ventures by my deliberately designing them to be. I now see all along I was missing valuable opportunities to prototype and workshop my ideas into winning ones. I wish I could have experienced this years ago! Don't expect to sit back and simply be told what to do … an integral part of the learning experience is to roll up your sleeves and dive right in, creating and exploring throughout.
Thank you … I feel the learning has only just begun!

Becky Rock
Nurse Clinician, Patient Blood Management Program, Alberta Health Services, Canada
These tools and approaches have had incredible impact on our organization. As an executive responsible for innovation at a technology company I have been to many seminars and events trying to improve our ability to innovate.
These have been the most impactful we have used. Our team is now having deeper more constructive conversations about innovation. We're creating innovative and powerful ideas beyond what we historical have produced.
We were using them within hours and they now have become an integral part of our organization.
I highly recommend this approach to anyone trying to create innovation inside their organization.

Kevin Crowe
Executive Vice President Strategy, Long View Systems, Canada
The tools from the Straight Up Business Institute are powerful, practical, and fun. I've used them working with companies in California and with students from Florida to Finland. Straight Up continues to produce some of the most transformative and visually compelling, yet simple, tools for empowering the next generation of entrepreneurs. This is where design thinking meets entrepreneurship education!

Dr. Eric Liguori
Vice President of Research, U.S. Association For Small Business and Entrepreneurship (USASBE) Florida, USA
The Innographer and The Straight Up Business Institute have provided the practical tools that my university students and entrepreneurial and corporate clients easily use to move their innovative ideas forward. I've seen individuals and groups make meaningful progress in a scary and ambiguous process in literally minutes – what you'll find here are intuitive, powerful tools that provide a parachute for jumping off the entrepreneurship ledge.

Dr. Doan Winkel
Assistant Professor of Entrepreneurship, Illinois State University, USA
These tools have proven to be easy to teach and easy to learn. Not only that, they work as a system and not just as independent pieces. From idea generation, to business model design, all the way through pitching your project, there is a tool that can be used at each step. All of those tools have a BIG common denominator: they are visual! That is extremely important when trying to communicate in a simple and easy, yet comprehensive way. With these tools each iteration or pivot has an instant feedback, which saves a lot of trouble and disappointments. Even if you are still in the desert, you know which way you have to walk.

Jonathan Colin Pichardo
(Former) Director Business Incubator and Accelerator, Monterrey Institute of Technology and Higher Education Toluca, Mexico
I used your "Really Big Idea Sketch Pad" recently. I asked my students for their feedback. Immediately, they said it was well-structured, simple, visual, and helped them think through their early-stage business ideas effectively. I echo their sentiments completely. Thanks Alex for making your materials available for instructors around the world to help their students create and launch the next big ideas!

Dr. Phil Kim
Associate Professor of Entrepreneurship Babson College Massachusetts, USA